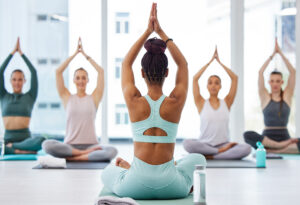 ‍‍Are you passionate about yoga and want to share your knowledge and help others in their wellness journey? Becoming a yoga instructor might be the perfect path for you! In this article, we will explore the steps you need to take to become a certified yoga instructor and start teaching classes that inspire and transform lives.
The Demand for Yoga Instructors


Yoga has become increasingly popular in recent years, with more and more people realizing the physical, mental, and spiritual benefits it offers. As a result, the demand for qualified yoga instructors is on the rise. Yoga studios, fitness centers, and wellness retreats are constantly seeking skilled instructors to meet the growing demand. By becoming a yoga instructor, you not only get to pursue your passion but also have the opportunity to make a positive impact on the lives of others.
Steps to Becoming a Yoga Instructor

Becoming a yoga instructor requires dedication, commitment, and a genuine love for the practice. Here are the steps you need to take to embark on this fulfilling journey:
1. Choosing the Right Yoga Teacher Training Program
First and foremost, it's important to find a reputable yoga teacher training program. Look for programs that are accredited and have experienced instructors who align with your values and teaching style. A comprehensive training program will equip you with the knowledge and skills necessary to become an effective yoga instructor. During the training, you will dive deep into the philosophy and history of yoga, learn proper alignment and sequencing, and gain practical teaching experience. Research different programs and choose one that resonates with you.
2. The Importance of Yoga Certification
Once you complete your training, it's time to gain teaching experience. Offer free or donation-based classes to friends, family, or local community centers to start building your reputation and confidence. However, to establish yourself as a professional, consider obtaining a yoga alliance certification. This certification is recognized worldwide and demonstrates your commitment to excellence in teaching yoga. It not only enhances your credibility but also opens doors to teaching opportunities in various settings, including studios, gyms, corporate wellness programs, and private sessions.
3. Developing Your Yoga Teaching Skills
Becoming a skilled yoga instructor goes beyond completing a training program and obtaining certification. It requires continuous learning and development of your teaching skills. Attend workshops, seminars, and advanced training courses to deepen your understanding of yoga and refine your teaching techniques. Embrace feedback from students and fellow instructors to grow and evolve as a teacher. The more you invest in your own growth, the better equipped you will be to guide and inspire your students on their yoga journey.
4. Building a Yoga Instructor Brand
In today's digital age, it's essential to build an online presence and establish yourself as a yoga instructor. Create a professional website or blog where you can share your knowledge, experiences, and upcoming classes. Utilize social media platforms like Instagram and Facebook to connect with potential students and showcase your teaching style. Develop a unique brand that reflects your personality and values. Use high-quality images and engaging content to attract and retain followers. Building a strong online presence will not only help you reach a wider audience but also position you as an authority in the yoga community.
5. Marketing Yourself as a Yoga Instructor
To attract students and fill your classes, you need to effectively market yourself as a yoga instructor. Consider offering introductory specials or discounted packages to entice new students. Collaborate with local businesses or wellness centers to host workshops or events. Network with other health and wellness professionals to expand your reach and create mutually beneficial partnerships. Utilize online platforms like MindBody or ClassPass to list your classes and make it easy for students to find and book with you. Implement a strategic marketing plan to consistently promote your classes and services.
6. Finding Yoga Instructor Job Opportunities
While many yoga instructors choose to start their own studios or teach private sessions, there are also plenty of job opportunities available in established yoga studios, fitness centers, and wellness retreats. Keep an eye out for job postings on yoga-related websites, social media groups, and community bulletin boards. Attend yoga conferences and networking events to connect with studio owners and fellow instructors. Be proactive in seeking out teaching opportunities and don't be afraid to reach out and introduce yourself to potential employers. Building relationships within the yoga community can lead to valuable teaching opportunities.
7. Continuing Education for Yoga Instructors
As a yoga instructor, your learning journey never ends. Continuing education is crucial to stay updated with the latest trends, research, and teaching methodologies. Attend workshops and training programs to learn new styles of yoga, explore specialized areas such as prenatal or therapeutic yoga, and deepen your knowledge of anatomy and physiology. Pursue advanced certifications or become a mentor for new yoga instructors. By investing in your own education and growth, you will not only enhance your teaching skills but also inspire and motivate your students.
Conclusion
Becoming a yoga instructor is a fulfilling and rewarding journey. It requires dedication, commitment, and a genuine passion for yoga. Start by choosing a reputable yoga teacher training program that aligns with your values and teaching style. Gain teaching experience and obtain a yoga alliance certification to establish yourself as a professional. Continuously develop your teaching skills, build your brand, and effectively market yourself as a yoga instructor. Seek out teaching opportunities and invest in continuing education to stay at the forefront of the yoga industry. By taking these steps, you will be well on your way to becoming a successful yoga instructor, inspiring others through the practice of yoga.